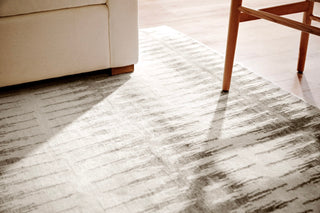 RUG GUIDE
See below for how to measure, how to choose the right rug for the right room and care instructions.
HOW TO MEASURE
Measuring for a rug isn't always simple. View our guide on how to measure, where to place the rug depending on the room and where to place your furniture.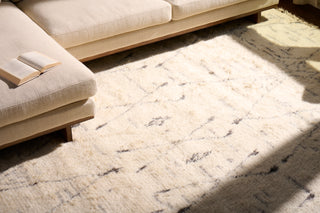 THE PERFECT FIT
HOW TO MEASURE
OUR MATERIALS
Depending on where your new rug is going, it's important to choose the right material for the right room.
CONSTRUCTION
The materials and construction of a rug matter when choosing the right rug for the right room.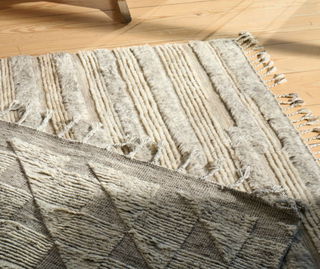 Hand-knotted
Each hand-knotted rug takes months to make by skilled weavers who are masters at their craft. Every knot in these rugs is intricately tied by hand, making them rugs incredibly durable. This time-intensive construction results in an heirloom-quality rug made of wool, natural fibers, or synthetic materials.
CARE GUIDE
UNPACK WHEN DELIVERED
Make sure to unpack the rug soon after it's delivered to minimize any creases or pressure marks from being folded or rolled up. The sooner you unpack, the sooner it will settle nicely on it's new floor.
VACCUM, CAREFULLY
Vacuum regularly but don't overdo it. Too much vacuuming can wear down the knots and fibers more quickly.

Using the wrong vacuum, too much power or the wrong vacuum attachments can damage the rug. Do not use a vacuum with a brush, a rotating motor-head or anything that can pull and damage the yarn.
Spills Happen
If stains happen attend to them immediately. But never use harsh chemicals and avoid rubbing the stains and be careful not to use too much water.

With dry stains, we recommend scraping with a blunt object like a tablespoon or a spatula and then vacuum clean the remains. Begin from the edge of the stain and scrape towards the centre. But be careful to not damage the rug fibers.
Shedding & Sprouting
Shedding – the shedding of fibers is normal with a new rug and should subside after a few weeks.

Sprouting – if a single tuft extends beyond the carpets surface, simply cut it off. Do not pull it out.
Shades of grey
Pile reverse or shading – this color change may occur in various parts of the carpet, caused by light being reflected in different ways as pile fibers are bent in different directions. This is characteristic of plush pile rugs and is normal.