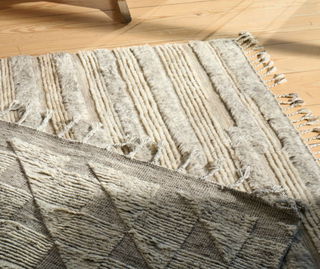 HOW TO MEASURE A RUG
When it comes to rug placement, you have options. See our guide below on how to meaure to make ru your rug is the perfect fit.
How To Measure a Rug for Any Room
A rug can enhance any room design, but how do you ensure it's the right size? Here's a brief guide on how to measure a rug.
Room Dimensions
When deciding how to measure a rug for a room, start by measuring the dimensions of your room to see the maximum size you can order. If you have an irregularly-shaped room, such as a living room that opens into a kitchen, decide where you want the room to end and use that for your measurements.
The largest rug you should order is 1-2 feet smaller than the room's overall dimensions. Rugs of this size provide a little space to walk while also providing a distinct appearance within the room. If you go to the room's edges, the rug looks like a carpet instead.
It's okay to have smaller rugs, but in most cases, rugs should be a little larger than the furniture items you plan to put under them.
LIVING ROOM
Arrange your furniture so that it all rests on the rug, or place your outer pieces so they rest half on the rug and half off. Allow around 18 inches of space between your sofa and coffee table. Always be sure to size up; a larger rug makes a room feel open and less cluttered.
Also, always be sure to size up; a larger rug makes a room feel open and less cluttered.
Aside from making the room feel more open, having a large rug connects all the furniture with a specific style.
Remember, when deciding how to measure a rug, think about the entire room. In terms of thickness, living rooms are usually high-traffic areas and do better with short, durable piles that hold up under frequent traffic.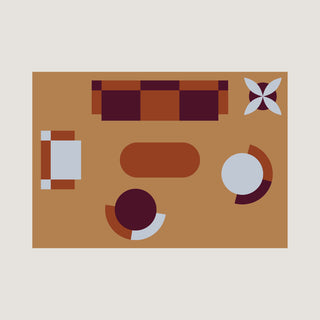 Place all legs of furniture on rug.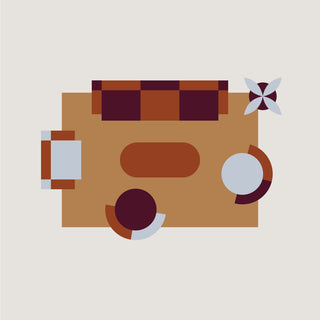 Arrange furniture half on half off.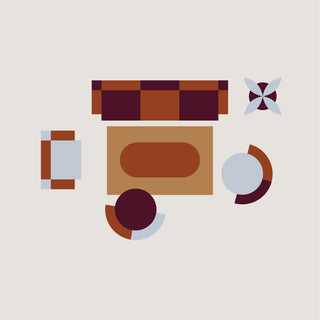 Just under the coffee table.
DINING ROOM
Allow for at least 2 feet of extra space on all sides, so guests can pull back chairs without tripping over the edge of the rug. We recommened low-pile rugs for the dining room, they are easier to clean and chairs move easily over them.
Low-piles are also durable, which works in dining rooms for the same reason it does in living rooms. Both areas see a lot of traffic, and a quality rug should hold up to the environment where you plan to place it.
Darker colors usually work better for dining room rugs than lighter colors. Dining areas can see a lot of spills, food debris, and other problems that land on the carpet, and those can quickly stain pale rugs. Darker rugs will hide any stains much better.
Darker colors also tend to match dining room tables, although this can vary by household. You don't need to find an identical color between the table and rug, but keeping dark with dark and light with light creates a better effect in most rooms.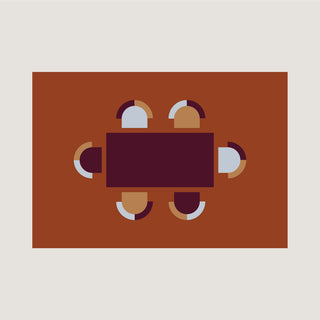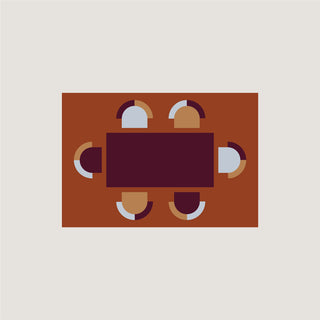 Bedroom
For a queen bed, choose a standard size 8' x 10' rug, or 9x12 fr a king size bed. Be sure to leave 8-10 inches of breathing room between your rug and your nightstand. For two twin beds choose an 8' x 10' or place a smaller rug in between.
When deciding how to measure rug sizes, remember that a bedroom rug can have any thickness, but medium to high piles tend to work better. A thicker rug can withstand the weight of the bed and feel more comfortable when barefoot.
The best rugs for bedrooms provide a nice contrast between the carpet and your bed's blankets. Look for something that balances those two colors.
If you have pets, skip the higher piles and go for something low and dense instead. Synthetic materials like nylon and polypropylene resist stains, and pets rarely claw at them.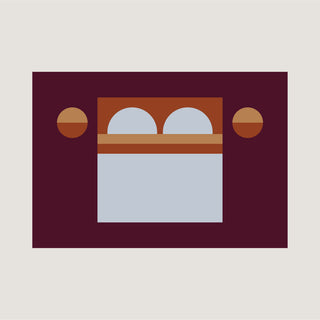 Make it extar cozy and fill the room.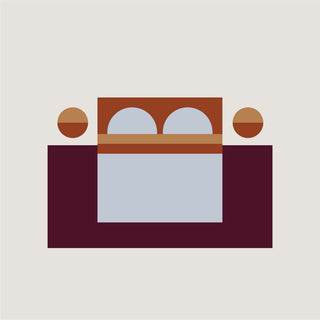 Show off more of your rug, and place just under the bed.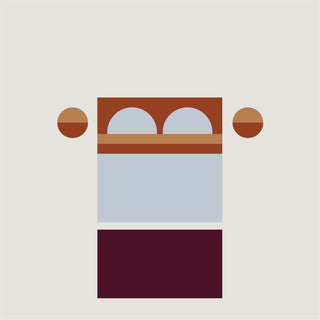 Fully exposed, choose a smaller size for the end of the bed.
Key Takeaways
Measuring a rug for a room involves several important factors to consider.
First, it's essential to measure the dimensions of the room to determine the appropriate rug size that will fit the space. Second, you should consider the placement of the furniture in the room and determine whether the rug will go under the furniture or around it. Third, you should consider the style and design of the rug, ensuring that it complements the existing decor in the room. Finally, it's always a good idea to take the time to measure twice to ensure accuracy before making a purchase. 
By keeping these important factors in mind, you can ensure that you choose a rug that fits your space and enhances the overall aesthetic of your room.
Browse Our Amazing Collection
If you're in the market for a new rug, or simply looking to add a touch of elegance and sophistication to your space, Resonnaire's collection of rugs is an excellent place to start. With a wide variety of styles to choose from, including Moroccan, Persian-inspired, contemporary, solid, abstract/geometric, and traditional, there is something for everyone's taste and preference.
Not only that, but our rugs are made from high-quality materials such as wool, bamboo silk/wool, silk, and cotton/wool, ensuring that you'll be getting a durable and long-lasting addition to your home.
Moreover, the collection features a variety of construction types, including hand-knotted, flatweave, and handmade, providing you with a diverse range of options to choose from.
Whether you're looking to add warmth to your bedroom or elegance to your living room, our collection of rugs has something for you. So don't wait any longer, browse our collection by style, material, or construction, and find the perfect rug to suit your needs and enhance the beauty of your home.